Industry news
Articles on industry specific news, company news and updates about what's going on at ACS UK. 
5 Cool Facts about Air Conditioning
Looking after your staff throughout the year, no matter what the temperature outside, should be of paramount importance – that's why commercial air conditioning systems that produce both cold and warm air have become fundamental within the UK workplace.
But how much do you really know about the system that keeps you cool in summer and warm in the winter?
Based on Cold, Hard Facts
South Korea is now the largest producer for air conditioning in the world; in 1906 the term air conditioning was coined by textile mill engineer Stuart Cramer; the output ratings of the first air conditioners were measured based on how much ice would've been needed to achieve the same cooling power; air conditioning became something of a status symbol after World War II. Window units were so popular, over one million units were sold in 1953.
A Breath of Fresh Air
The coolest man around is officially Willis Carrier. Why? Because he was responsible for the invention of the first air conditioning system. He submitted drawings for the system after experiencing an air quality problem at the Sackett-Wilhelms Lithographing & Publishing Company of Brooklyn, USA. Carrier's 1902 installation marked the birth of air conditioning with the addition of humidity control, which led to the recognition by authorities in the field that A/C must perform four basic functions: control temperature, control humidity, control air circulation / ventilation and cleansing the air.
Saturday Night at The Movies
Movie theatre owners soon came up with the idea to invest in Air Con systems, ensuring that people would buy tickets to watch a film whatever the weather. The idea paid off and to this day cinemas are provided with the perfect temperature while watching their favourite film on the big screen.
Saving Lives
Modern air conditioners have proven to have a positive effect on our health.  People who suffer from asthma benefit from the improvement in indoor air quality the most, as an air conditioning system is able to remove allergens and other smaller particles from the air your breathe in at work. Not to mention that A/C units have impacted greatly on the medications we use today. They were developed in laboratories with temperature-sensitive tools and equipment, helping to cure everything from the common cold to preventing life threatening illnesses. Furthermore, a dirty filter will reduce your AC's efficiency and require more energy to run, whether you have central air or a window unit. A good rule of thumb is to check your filter monthly and plan on replacing it every three months.
The Cool Kids
Here in Britain it is rare that we are treated to a summer blockbuster, but before air conditioners existed, it was way too hot for children to learn at school during the summer months in many countries across the world. Thus, the summer holidays were born. The idea stuck, and school-children today benefit from time off working and relaxing with a nice cooling system instead – the best history lesson you will receive today.
From heat pumps and air conditioning heating to the satisfying cool air blowing in your face on a warm day, our ACS Mechanical and Electrical team cover every  area of HVAC systems. All installation work is completed to NIC EIC regulations and a certificate is provided upon completion of the work.
A project manager is appointed to oversee all aspects from start to finish ensuring our customer service is second to none and that the end project fully meets our customer's requirements. Our surveyors are able to visit your office and advise you of the most suitable options.
If you have central air, our professionals are trained to inspect your system once every year to make sure there aren't any inefficiencies you're wasting money on before you start cooling your work premises for months at a time. Essentially, our processes can help transform your office into a comfortable place where your employees will want to work and will feel content for a long period of their career.
Quick Quote
Please complete the form with some basic details and we will get back to you with more information. Alternatively please give us a call on the number below or pop in for a chat.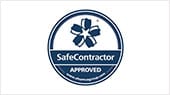 here when you need us
24-hour 365-day reactive callout cover 
FULLY ACCREDITED
Gas Safe, NICEIC, Safe Contractor & CHAS
HVAC in London
Specialists in Commercial installations across London