Industry news
Articles on industry specific news, company news and updates about what's going on at ACS UK. 
Contact us
Takin' Care of Business – Office Air Conditioning Benefits
Taking care of business on a daily basis can be hard work. Constant decision making, budget constraints and keeping the important people happy; your team and your customers. Well, Associated Cooling Services can go along way to helping you achieve a good percentage of that mindset with office air conditioning benefits.
We understand installing air conditioning can be substantial investment for SME's in London, it is important to be aware of all the advantages prior to making the investment.
After all, no office is the same and requirements are always different. Our expert surveyors ensure that all units and installations match expectations. However, there are a number of factors that need to be considered when installing air conditioners in an office.
So without further or do, let's take a look at the benefits of an air conditioned office:
The right temperature to ensure productivity
Do you have the right temperature to shelter you from the storm? No, don't worry, Sean Paul isn't taking control of the temperature in your office, but the storm we refer to in this instance is that of making sure that everyone is working in a comfortable temperature. Some like it hot, some like it cool, depending on the seasons of the year, regulation of office temperature is very important for productitvity in the workplace. An air conditioning system ensures that everyone is happy with the working temperature, which in turn increases productivity throughout the day.
Stayin' alive
Another key benefit of an air con system is the ability to filter the air. Having clean filtered air circulate throughout your workplace is important for the health of your employees, and helps reduce symptoms of asthma and other respiratory illnesses.
It's oh so quiet
Perhaps during your career you have worked in an office with vintage air conditioning units churning out more noise than brass band walking past your desk or just under the preconception that air conditioning can be noisy and distracting. While older systems had an element of noise to them, modern systems such as ours at Associated Cooling Services are of high quality and have very little noise distracting you from your work.
Techno remix
Over the years, offices have modernised and with that comes the need for the latest technology to be installed to maintain that forward thinking approach. New technology has been introduced and in some cases it's been modernised further, call it a techno remix if you will! This applies to air conditioning units installed in offices up and down the country by our excellent engineers fitting you with the very best equipment the industry has to offer.
Strangers in the night
Without air conditioning, the next best option to stay cool is to open a window. However, when it's time to go home, Friday rolls around and everyone is leaving the office quicker than you can say Tequila Slammers, that opened window from earlier to keep you cool can somewhat be forgotten. Not ensuring the property is secure, especially on public holidays and weekends, can lead to a substantial security risk and can attract intruders or opportunists.
You really got me
Are visitors regularly welcomed to your office? You will no doubt want to make the perfect first impression when showing potential customers/investors around your office, right? The decor can be timeless, the furniture can be modern, computer technology out of this world, but if you can barely breath in your meeting room, it can become somewhat of an uncomfortable time, which won't show your business in the best light and could cost you a potential contract. Air conditioned offices or meeting rooms really are the way forward when it comes to those visiting your office.
For the love of money
Air conditioning can be a cost-effective option when it comes to both cool and warm air throughout the year. Not only can you control factors such as temperature and output, you are also in control of filtered air, which ensures that it is clean and healthy for your staff to work in. In addition, with money saving techniques firmly in mind for all businesses at present, you won't want your staff taking sick days due to the cleanliness of your office. Thus, the chances of your employees becoming ill will decrease with a modern and high quality air conditioning system – this approach saves your organisation money in the long-term.
The ACS Mechanical and Electrical team run full HVAC commercial projects. A project manager is appointed to oversee all aspects from start to finish. Our customer service is second to none to ensure that the end project fully meets our customer's requirements. Our surveyors are able to visit your office and advise you of the most suitable options.
Essentially, our systems help transform your workplace into a comfortable environment where your employees and customers will feel content for the duration of their stay.
All installation work is completed to NIC EIC regulations and a certificate is provided upon completion of the work. Call Associated Cooling Services today on 020 8778 8668. Alternatively you can get in touch with us via the contact form below.
Let us take care of your business with high quality air conditioning systems supplied throughout greater London now and into the future. If you need a full heating and cooling system, we are HVAC professionals and install a wide range of systems.
Quick Quote
Please complete the form with some basic details and we will get back to you with more information. Alternatively please give us a call on the number below or pop in for a chat.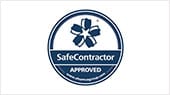 here when you need us
24-hour 365-day reactive callout cover 
FULLY ACCREDITED
Gas Safe, NICEIC, Safe Contractor & CHAS
HVAC in London
Specialists in Commercial installations across London