Industry news
Articles on industry specific news, company news and updates about what's going on at ACS UK. 
Contact us
Heating Maintenance in London
The Heat is On
Have you considered scheduling an early tune-up regarding your heating maintenance or maybe even an upgrade? Now is the perfect time to enquire about ACS heating maintenance in London.
Getting in early and making sure your central heating system is in perfect working order before the winter chill sets in ensures you are well prepared in the lead up to a new year with your team hard at work.
At this time of year your business heating is essential. If your heating breaks down not only will you have a bitterly cold working environment but you will be looking at hefty last minute repair bills to fix the issue. The risk of other potential problems arising increases as pipes may freeze due to the cold. 
Regular annual maintenance services of your office heating ensures potential problems are fixed before they happen. Undetected, avoidable problems like gas safety can be prevented.
Here are a number of reasons why maintenance of your office heating is of high importance heading into the Winter months:
Keep Utility costs down
Smooth and efficient operation is the order of the day in any place of work. This should be no different with your heating. Our maintenance agreements ensure your heating or HVAC system is properly maintained, and therefore maximises its efficiency. this minimises the risk of any issues and gives you peace of mind.
Greener future
While it's always nice to save money, you will also be doing your bit to save the planet with regular maintenance. Clean air benefits us all thanks to our gas safe registered engineers!
ease the expense
All good things must come to an end. When the time comes to replace your heating unit, we can advise on a potential timescale for replacement allowing you to budget accordingly. With a regular check up of your heating system, you get a better idea of how long your current system has left to run.
Your safety is number one
Our professional HVAC technicians can identify any issues, keeping you and your staff safe and in the know.
The earlier the better
If you schedule your appointment earlier you are more likely to get a time that suits you as emergency work makes our engineers very busy at times when the temperature is at its worst.
Someone turn the heating up!
There will come a time that your heating will feel like it's permanently on full blast as the cold snap enters Britain. Having your heating system regularly maintained year round reduces your risk during the months when heating is most essential.
We have invested heavily in training to meet our commercial customers' needs becoming fully accredited to various bodies including Gas Safe, NICEIC, Safe Contractor and CHAS. From gas heating to underfloor heating, our engineers and electricians receive regular training to make sure they are fully equipped to deal with all the work aspects which they come across in all installation servicing.
Are you considering a heating company in London or the surrounding areas with excellent customer service and reputation for heating maintenance? Call Associated Cooling Services today on 020 8778 8668. Alternatively you can get in touch with us via the contact form below.
Quick Quote
Please complete the form with some basic details and we will get back to you with more information. Alternatively please give us a call on the number below or pop in for a chat.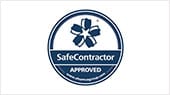 here when you need us
24-hour 365-day reactive callout cover 
FULLY ACCREDITED
Gas Safe, NICEIC, Safe Contractor & CHAS
HVAC in London
Specialists in Commercial installations across London