Industry news
Articles on industry specific news, company news and updates about what's going on at ACS UK. 
Contact us
In The Heat of The Moment
The hot summer of 2019 has had many businesses considering the potential for a conditioning unit within their commercial premises. Whether it's a heat of the moment realisation or a cooly calculated decision for the future, Associated Cooling Services have tended to our client's requirements with ease.
The warm weather in particular has made business owners think more and more about comfortable working conditions. Thus, ACS have been working hard, providing installations across London and surrounding areas, in addition to our 24-hour 365-day reactive callout cover to our customer base.
Conditioning units have been around for decades and in that time technology has advanced to make our specific products some of the very best in the industry. Our modern air conditioning units provide a range of benefits for businesses throughout the year.
But don't just take our word for it…
Our clientele includes: pubs, hotels, restaurants and offices.  We have built up our customers based on the excellent levels of service which we provide along with our reputation for reliability and efficiency.
We ensure that you have total control of a comfortable temperature at all times.
ACS covers a wide range of services that gives your business a modern approach within your premises:
We have invested heavily in training to meet our clients' needs becoming fully accredited to various bodies including Gas Safe, NICEIC, Safe Contractor and CHAS.
Our engineers and electricians receive regular training to make sure they are fully equipped to deal with all the work aspects which they come across.
Their vehicles are stocked with a level of common parts used to enable a first-time fix wherever possible. When non-standard parts are required then effective communication between our mobile workers and office means that a resolution to the issue is brought about swiftly. We utilise service management software to provide our customers with the high-levels of service they have come to expect from us.
Your decision to use ACS is one for now and into the future, not one that belongs in the heat of the moment.
Are you considering HVAC (Heating Ventilation Air Conditioning), Mechanical or Electrical service for your business? Call Associated Cooling Services today on 020 8778 8668. Alternatively you can get in touch with us via the contact form below.
Quick Quote
Please complete the form with some basic details and we will get back to you with more information. Alternatively please give us a call on the number below or pop in for a chat.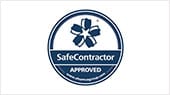 here when you need us
24-hour 365-day reactive callout cover 
FULLY ACCREDITED
Gas Safe, NICEIC, Safe Contractor & CHAS
HVAC in London
Specialists in Commercial installations across London